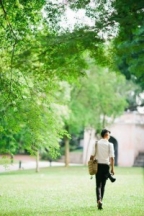 Light, Bright & Beautiful. Toto Villaruel sees that less is more. Keeping it simple works for almost everyone, and works for a lifetime. Real is what you want, and is beautiful to capture. Natural, makes you… you.  He works with a relax and fun environment so he can shoot who you really are and capture what is real. Keeping it true.
Found his passion in wedding photography after becoming a photojournalist. He then started his career in the industry and within 2years became the youngest master in Imagine Nation Photography. Now, 4 years in the business and he has set off to start his own.
Toto captures your moments bolted with art to go beyond what is usual, taking it in a visually enticing perspective . He's been to places, shot hundreds of weddings and he still gets excited for the next shoot!